5th October 2015
Why Go
The coastal town of Varkala is perhaps the best backpacker hangout and place to chill for travellers in the tropical South Indian state of Kerala. Varkala is essentially a temple town, the Janardhana Temple, popular with Indian pilgrims, dominates one end of the beach, but not far away the whole scene changes as the sandy strip of beach becomes popular with travellers while the towering red cliffs offer stunning ocean views, restaurants, shops and a real traveller scene.
Daily Flashpacker Budget for Varkala: 1,000 – 2,000 Rupees a day (US$ 15 – 25 )
Top Things to do in Varkala
Varkala more a place for chilling than doing although travellers can enjoy both here.
The beach below the cliff is most popular with travellers – it's fine to sunbath, swim and alsosurf in a bikini here. But be aware, the current here is really strong but there are lifeguards patrolling the beach and in the rainy season the beach almost disappears to a thin slither of sand.
Or head over towards the Janardhana Temple where Sadhus to perform the last rights for the relatives of Indian pilgrims as they also get their first taste of the ocean. (wearing a bikini on this part of the beach will probably bring unwanted attention.)
Relax with all sorts of yoga, massages and alternative therapies available. Just walk along the cliff top and take your pick but, as Kerala is the home of Ayurveda (a traditional plant based healing) while in Kerala be sure to try a traditional Ayurveda massage.
Hire a scooter and explore. As soon as you get away from Varkala Cliff the area is resolutely Indian and not touristy at all. Head north towards Kappil Beach where the coast meets the backwaters or drive south along authentic fishing villages and miles of undeveloped coastline until you reach Anjengo Fort – one of the oldest in India. Head inland to visitPonnumthuruthu Island where a temple nestles on a serene island in a palm tree lined backwater lake, (you can also try stand up paddle boarding here)
You could even use Varkala as an affordable and chilled out base from which to explore the rest of Kerala from as travel agents here can organise trips along the backwaters, a day trip in the capital of Kerala, Trivandrum (Thiruvananthapuram) with the golden Shri Padmanabhaswamy Temple (non hindus are not allowed to enter but it's still a spectacular sight from the outside) and nearby the historic wooden Puthe Maliga Palace, and the nearby more main stream tourist beach resort ofKovalam.
Where to stay in Varkala
The area around the cliff top has plenty of budget accommodation and a couple of decent mid range places.
Save: Varkala's only hostel, Vedanta Wake Up is situated only 5 minutes walk from the cliff top with dorms, private rooms and a sociable scene. You can also search around further back from the cliffside and find cheap rooms for 300 / 400 Rupees.
Splurge: Seaview rooms cost a bit more but are worth the money. Most accommodation is of the budget variety and not many have pools although the Krishnatheeram Beach Resort has characterful rooms and a small pool overlooking Black Beach at the far end of the cliff. The Clafouti Beach Resort is probably the best mid range option with it's views over the ocean, cute Kerala style cottages and landscaped grounds. The Hillview Resort also has comfortable, well located and great value rooms.
Where to eat in Varkala
The cliff top in Varkala is lined with stalls and traveller orientated eateries with stunning views over the ocean. Many places have happy hours with buy one get on free cocktails and mixed menus of all the Indian, Chinese and Western traveller favourites along with fresh seafood. Varkala is also the easiest place in Kerala to find alcohol. Some of the best restaurants in Varkala are:
Coffee Temple – open for breakfast and lunch at the start of the clifftop strip this chilled out place does great hot and cold coffees, tea, smoothies, breakfasts, salads, pizzas, sandwiches and Mexican food.
Abba – great restaurant with a huge menu run by a Swedish/ Indian couple. Abba serves a bit of everything and has good Western food.
Darjeeling Café – has a lovely chilled out vibe and a great spot for sunset. Serves all the Indian and traveller favourites but is especially good for the tasty Thai food.
El Italiano – Italian restaurant with super friendly staff. The downstairs feels cosy with the book lined walls and upstairs is a great deck with good views. Good pizzas and pastas.
Blue Moon – A popular place with lots of outdoor seating, huge menu and great for seafood.
Luna Azul – chilled out place at the far end of the cliff overlooking black beach with good Indian food and regular live music nights.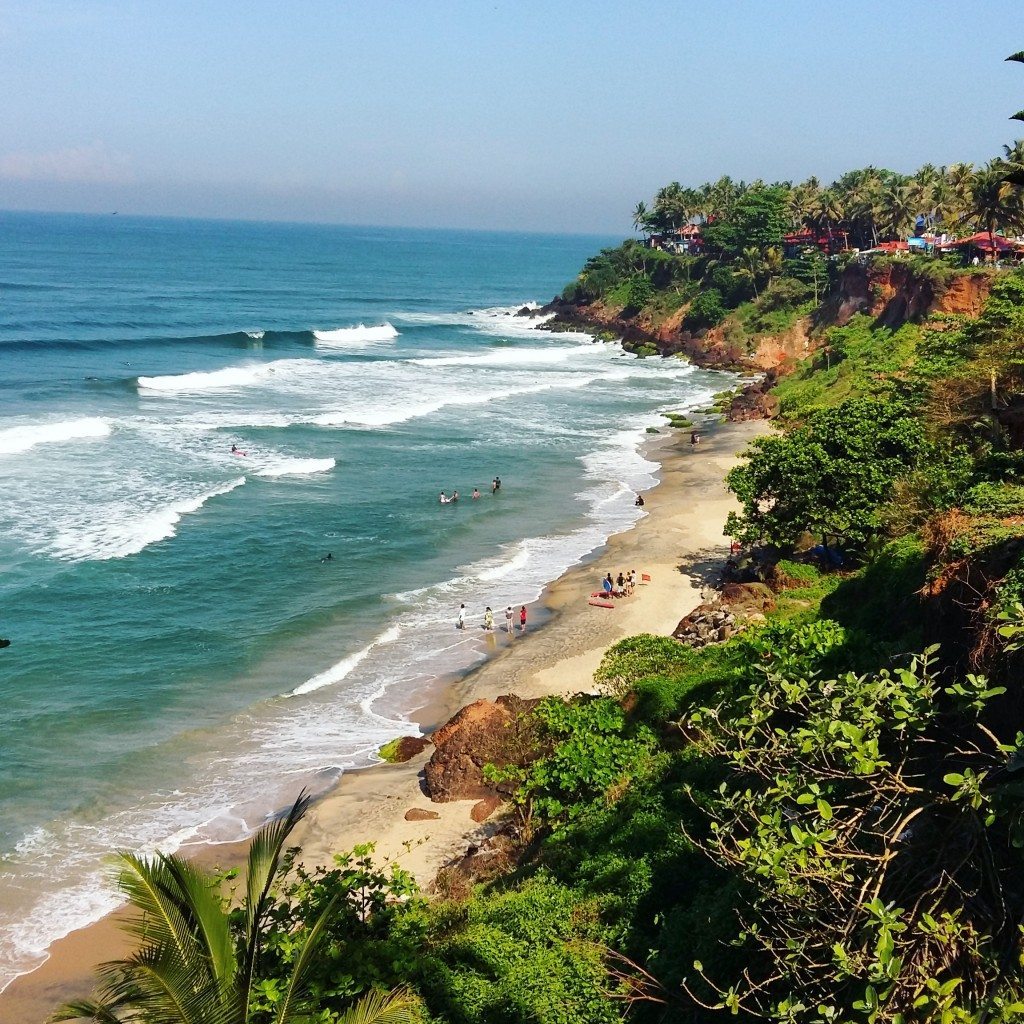 How to get to Varkala
The nearest airport to Varkala is in Trivandrum. Varkala has a train station and is about 1 hour from Trivandrum's Central Station and Airport. A prepaid taxi from Trivandrum should cost about 1,200 rupees. You can also reach Kochi in about 3/4 hours by train or public bus.